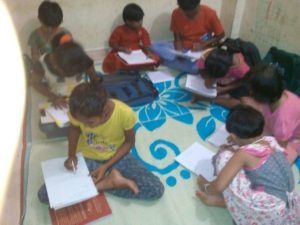 A collaborative initiative between New Vision and Talent Education Stiftung International (TESI) Germany:In India, it is not self-evident to get a good education – state-accredited vocational training is still in its infancy. Therefore, many people fight through making a living as day laborers or with poorly paid jobs. The income is barely enough to survive; quality education for children is often out of the question. Anyone who comes from a low-income family, has later, just as their parents, virtually no chance in the job market: A vicious circle. There is mostly no shortage, however, neither on the willingness to learn nor motivation among these children and young people. What they lack are affordable educational opportunities and learning materials. That's why we offer all learning enthusiasts the opportunity to interactively acquire and to expand their knowledge. Our training offers German teaching concepts and quality standards combined with Indian creativity and reality of work.
Vocational guidance mixed with intensive personal care is our recipe for success. Reflection and independent thinking are key elements:recognizing your own needs, abilities and opportunities are a prerequisite for development. The teenagers often neglected by society and family, discover new talents through talking to us and start with strengthened self-confidence in a new phase of life. Additional offers such as meditation, sports & games, as well as interacting with experts and excursions to renowned companies complete the TESI concept.
Over a period of several weeks (6 weeks to 3 months) our students receive 90 minutes lessons in computers and English each weekday – without a sound knowledge in these two areas, the chances of getting a good job in India are very low. Incorporated into the two main compartments are all sorts of issues that are a prerequisite for success in work and private life: social and intercultural skills, communication skills, sense of responsibility, discipline, determination, time management and much more. The Saturday program has the motto "Learn and Play". Along with guest speakers and volunteers, we offer workshops, board games and a platform for networking and exchange of experience. Furthermore, there is more time for consultations in a relaxed atmosphere outside the regular school day.
All training programs are concluded with an oral, written and practical exam. For the participants of the 3-months course there is a unique opportunity to take this exam in front of representatives of the Indo-German Chamber of Commerce and to obtain, if passed, an AHK Certificate of Vocational Training Category C.
Our particular interest is also the construction of a community consisting of students, volunteers and TESI employees. Sustainability can only be guaranteed through long-term, regular contact and exchange.